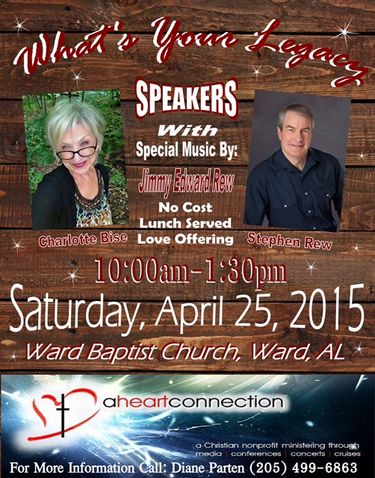 Stephen Rew's imagination can't compete with God's wildest plans. Only God can dream up the crazy connections in life such as the one leading Stephen to speak and perform in Ward, Alabama on April 25th. Never heard of Ward? Most people haven't. In fact, Diane Parten (co-host on A Christian Talk of the Town tv program), is the first person Stephen has randomly met that has heard of the tiny town where his father grew up. But that is just the beginning....
Stephen met Diane during ICM Week 2014 because his booth was across the aisle from the ladies of" A Christian Talk of the Town." After days of fun bantering and hearing Rew perform and speak at the ICM Members Breakfast, the ladies invited him on the tv show. Parten asked Stephen if he'd be interested in speaking for her organization, "A Heart Connection." The first follow-up emails revealed:  1) Ralph, Diane's husband, is from Cuba, AL -- just down the road from Ward and, 2) Diane and Ralph lived in Cuba for several years and knew "some Rews."  Were they releated to Stephen? Of course they were!  Stephen thought that was all very cool, but the next email was incredible. Ralph's mother taught Stephen's Dad in first grade! And, Ralph dated Stephen's first cousin while in high school. Later, they learned that Ralph and Stephen are actually distant cousins.
Both the Partens and the Rews realized immediately that this was more than a casual connection. God put them together for a reason. When Stephen explained that his first radio song, "Another Hero is Headed Home" is dedicated to his Dad and that the song talks about the importance of a faith legacy, Diane said, "We've got to do a conference down there. I do a Ladies Conference every year in Cuba. Let's put one together!" One of Diane's best friends in Cuba is Wanda Rew and she suggested they bring the conference all the way back to Stephen's roots. The result:  Stephen will speak and sing at the Ward Baptist Church starting at 10:00 am on April 25th. There will be additional entertainment by Jimmy Edward Rew, Stephen's first cousin. There will be an old fashioned Dinner on the Grounds. 
The title is, of course:  Legacy.
Only God can put people together in such a powerful testimony to Him.